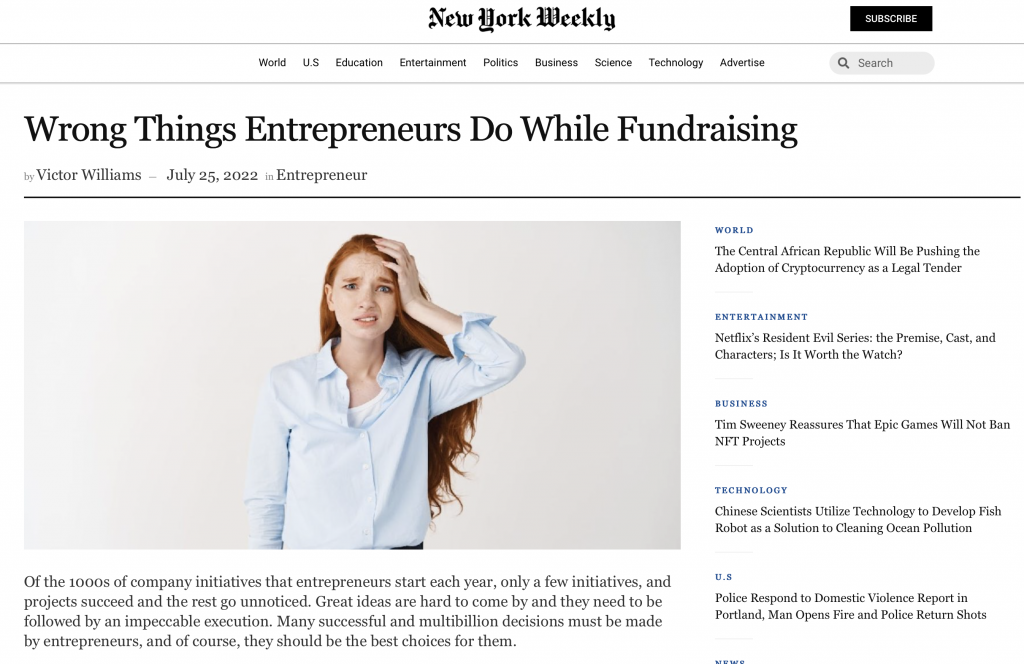 Of the 1000s of company initiatives that entrepreneurs start each year, only a few initiatives, and projects succeed and the rest go unnoticed. Great ideas are hard to come by and they need to be followed by an impeccable execution. Many successful and multibillion decisions must be made by entrepreneurs, and of course, they should be the best choices for them.
But what actually happens? A Bozone cloud encircles a businessman as they want to get worldwide recognition. They leap in without doing enough research about the «wow factor» and investment opportunities, even when they are aware of the «facts» of risk, and thereafter jump in the water! And eventually, all their plans sink!
An American investor and a member of the Global Investment Leaders Club, Charles Sidman comments on two foolish behaviors that he has often observed in entrepreneurs. This includes, «presenting what they want to do without explaining the background problem or significant opportunity that their intended activity addresses. And the next is to ask investors and collaborators for resources or cooperation that the entrepreneurs need to accomplish their goals but without thinking about, much less explaining or providing, how the results of the requested assistance would be of interest or value to the donor».
So what's next? What are the most common foolish things that such entrepreneurs do while they plan for fundraising and investment?
Top Things That Entrepreneurs Should Avoid
·      Limited Research or No Information
There is an extremely drastic drop for entrepreneurs as diverse hazards converge into one major entrepreneurial risk. The majority of these hazards may, and should, be significantly decreased by being prepared and knowing what they should do. The market research, detailed insights and risk reduction procedure must be included in your preparation phase.
One thing that irritates an American billionaire investor Marc Cuban is when entrepreneurs "don't know the difference between a product and a feature." A customer-centric mindset is one that successful business owners embrace. They are aware of customers' needs, preferences, and the products they would love to have.
For instance, for an entrepreneur giving a dry run for their project in an exclusive club for investors might be a good idea to learn investors' opinions on the project and make necessary adjustments to it before starting a fundraising process. It is of utter importance that before fundraising, they need to have this fundamental understanding and of course they should know all about its research and development.
·      Not Seeking Out Expert Advice
The realm of investment is quite complicated. It's crucial to get in touch with experts as you prepare your venture for fundraising so always get a professional opinion on your company. They will inform you of the investment to seek and investors to get in touch with. A task like fundraising should only be undertaken after careful planning. You shouldn't look around simply hoping to come upon an ideal investor.
Plan everything and choose the sort of investor you need to attract at each step of the startup process. Reaching out to the wrong investors at the wrong time may result in time loss as well as the potential closure of your doors to that investment in the future.
·      Approaching The Wrong Investors
Often, entrepreneurs make the huge mistake of approaching wrong investors. Remember, each investor is unique. They concentrate on various phases and industries. Some have prominent investment propositions, while others take a more all-encompassing stance. Finding an ideal investor for your business is what you should be aiming for as an entrepreneur. Choose investors who have a real interest or eagerness in what you do. If you'd like to showcase your project to investors, expand a high net-worth-individual network and secure necessary funding — contact the Club.
·      Failing To Raise Enough Money
Another typical mistake in an entrepreneur's fundraising is to ask for less than you need. You must seek enough funds to progress your company once you've evaluated your beginning expenditures. Founders who comprehend how their businesses fit within an investor's extensive portfolio are much more successful.
·      Failure to Recognize Your Audience
Sometimes, the entrepreneur needs and wants to carry out the project, but does not explain how its accomplishment would be of value or significance to the donor or investor. Think about the fact that why the American investors should care or get involved then?  It's a common but significant mistake that can easily be prevented through honest consultation and feedback from seasoned investors.
·      Communication Issues
In an ideal situation, funders would evaluate your business entirely based on how well your ideas, plans, and strategies were carried out. Your messages must be precise and concise in every way. Many firms are competing for a small pool of capital. Every encounter needs to see your passion and vitality. Be straightforward and enthusiastic about your company.
·      Every Pitch Matters
Present your project directly to investors. Fold your business into a compelling narrative and introduce yourself and the opportunity through a short, well-choreographed presentation, which is both instructive and captivating. Sometimes, entrepreneurs overlook the feedback, criticism and pitch lessons they are supposed to learn. Consider every piece of criticism you get and thoughtfully take it into account. Remember, investors frequently provide the feedback several times, giving opportunities to improve responses. Don't forget to consider the market segment and the preferences of customers.
Bottom line
One of the most crucial elements of every venture-scale firm is fundraising. It takes a lot of time, effort, and money to build anything significant that shocks the world. Of course, these entrepreneurs can't imagine living with equity and Ramen forever.
Finding investors and persuading them with your business's future potential is the core of fundraising. Keep the above-mentioned things in mind and you will find yourself on the right track!